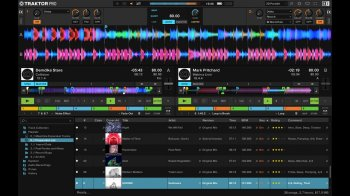 Almost two decades ago, we created the first DJ software to truly conquer the club. Since then, it's filled sound systems and dancefloors across the world, as well as house parties, bars, beaches, and everything in between. Now, with TRAKTOR PRO 3, we've built on that past to bring you new tools for sonic sculpting, our best sound quality ever, and our clearest interface to date – so you can play whatever you want, however you want, wherever you want.
PROFESSIONAL 4-DECK DJ SOFTWARE
– Our flagship DJ software, used from bars, to booths, to the biggest stages around the world
– Pro-grade audio, with new time-stretching and improved limiter
– Powerful interfacing with TRAKTOR hardware, including Haptic Drive™, Remix Deck pattern recorder, and more
STAY IN SYNC
TRAKTOR is great for honing your beatmatching skills, but you can also blend genres and bridge BPMs by letting TRAKTOR PRO 3 do some of the work. Hitting the Sync button quickly gets your tracks beat-matched, so you have plenty of time to experiment with your mix.
REMIX WITH LOOPS, HOTCUES, AND BEATJUMPS
For those who really want to put their stamp on a set, the industry's most reliable and seamless loop, Hotcue, and beatjump tools let you chop and re-edit tracks however you like. Unless you want to cut things up outside of the beat, TRAKTOR will make sure you never skip out of the groove.
FULL FX SUITE INCLUDED
Modulate your tracks with over 40 intuitive, high-grade effects. TRAKTOR's famous Deck FX can twist and screw your tracks with endless variation, while new Mixer FX introduce easy-to-use effects in a single control on each channel. Turn them up, down, on, and off, for sonic exploration that's out of this world.
What's New:
NEW INTERFACE
We've overhauled TRAKTOR's user interface for extra clarity by flattening and sharpening it, so you can see everything you need to at a glance in challenging environments. New master and channel level metering means you can accurately gain your mix with full visual feedback.
NEW MIXER FX
Whether it's heavy drops or smooth transitions that define your style, new Mixer FX are designed for one-knob modulation with big-sounding results. Choose from eight extra effects and three new filters to assign to each channel, in addition to TRAKTOR's famous Deck FX.
SCRATCH WITH ANY SOUNDCARD
TRAKTOR SCRATCH is now included in TRAKTOR PRO 3, right out of the box. This means that DVS DJs using timecode vinyl can now use any soundcard they like, in addition to tried and tested, TRAKTOR SCRATCH Certified soundcards and mixers. So if there's a model that does it for you, or if you're playing back-to-back with somebody on a different setup, TRAKTOR can adapt.
A LAYOUT FOR THE CLUB
We redesigned TRAKTOR's interface so that it's clearer, flatter, more streamlined, and easier to see through the club haze. New metering and fader designs let you gain your mix more accurately. Instantly access clock, quantization, and master output controls on a redesigned master panel. TRAKTOR PRO 3 maintains the workflows of its predecessors, so switching is a breeze.
A NEW KIND OF SOUND
From small systems to festival big-rigs – we've made changes that will help you sound great, wherever you play. Every signal-processing step in TRAKTOR has been refined with high-fidelity sound in mind. Stay confident with heavy tempo shifting that uses new Elastique 3 time-stretching. Run your tracks out through the classic warm and punchy TRAKTOR limiter, or a newly-designed, truly transparent master limiter that won't duck your sound, even when layering multiple tracks and samples.
NEW MIXER FX
Experimentation should be easy, which is why we developed new Mixer FX on each channel to give you one-touch control over huge club-grade effects. These are great tools for fail-safe sonic exploration – drench vocals in reverb for washed-out transitions, make industrial music-mayhem with bitcrushing, or step things up and away with different delays, plus more. Choose from eight new Mixer FX and three filters and assign them to a dedicated slot for quick modulation.
HOP, SKIP, AND LAND ON-BEAT
It's not just effects that can power up your performance. Hold in the new Reverse button to play a deck backwards – because it works with Flux Mode, letting go will mean you jump to where you would have been had you done nothing at all, in perfect sync with the other decks. Create shifted percussion parts, or hidden-message vocals, and team it up with effects for sounds from another dimension. Flux Mode also works with Hotcues, loops, and scratching, for moments where you need a super-tight beat, but can't help chopping things up.
MADE FOR DVS
For the DVS enthusiasts out there, TRAKTOR PRO 3 sees TRAKTOR SCRATCH capability included as standard. Scratch DJs can now use our timecode vinyl with any sound card they like – just hook up your turntables or CD players to your sound card and spin away. So as well as playing your crate-digging finds, you can cut, scratch, and backspin your beats without wrecking your wax.