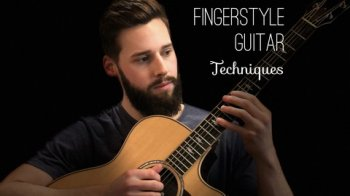 6.88 GBG'day guys! My name is Dave and I want to welcome you to my Fingerstyle Guitar course. I've been playing this style for over 10 years and have passion for teaching the foundational skills which helped me become a more experienced player. If you have no prior knowledge or just a basic understanding on how to play Fingerstyle guitar then this course is for you!
In this course:
You're going to learn all of the percussive techniques. This includes creating the sound of a drum kits snare and bass kick on your guitar. This is achieved by either hitting the body of the guitar or slapping the strings of the guitar on beat.
You'll learn how to use these percussive techniques while fingerpicking and strumming open chord progressions that are widely used in the majority of modern music. This will enable you to play songs in any key with the use of a capo.
You'll learn to play different chord variations and melodies at the same time while adding percussive elements. This will equip you with the tools to improvise over many popular songs.
Finally, when you're finished with this course you'll have the ability to combine chords, melody and percussive elements with other extended techniques that will help you play more complex music. This includes techniques like Hammerons, pulloffs, tapping and harmonics
Throughout the lessons I'm going to teach you all of the practical things I've learned in my 10 years of playing so that you'll be on the fastest track possible to becoming an advanced player. I'm even going to cover the very basics like advice for picking a guitar, how to select the correct strings, tuning your guitar, the best fingernail length for playing, and good practice tips.
What you'll learn
•You will learn how to emulate the sound of a drum kit on your guitar
•You will learn multiple fingerstyle techniques
•You will learn how to play open chord progressions which will be used to play songs in any key with a capo
•You will learn how to create basic melodies on top of these chords
•You will learn how to play in different rhythms including 4/4 and 3/4 timing
•You will learn how to combine all of the percussive elements with chords and their variations
•You will be equipped with the knowledge to start learning and creating your own Fingerstyle guitar pieces
•You will learn how to read tab and chord diagrams