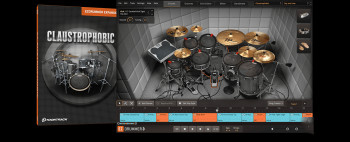 1.2 GB
CUTTING EDGE
Organic drums for any contemporary hip-hop, pop, dance or R&B track
The Claustrophobic EZX fuses conventional and organic drums with a selection of percussive elements, all recorded in a heavily dampened room and mixed through high-end chains of outboard. It includes several kit presets, a large selection of optional instruments as well as a comprehensive library of presets.
All in all, you'll have a highly versatile, tight and cutting edge percussive battery – tailored for any beat-driven hip-hop, modern pop, dance or R&B track.
FEATURE SPOTLIGHT
Several instant kit presets
Large selection of optional snares, bass drums and cymbals
Percussive elements include: handclaps, footstomps, snaps, bells, triangle, chimes, tambourine, shaker and cowbell
Mixer presets by STS9, Richard Devine, DJ AmpLive, sub-ID and Count Bass D
Included MIDI library
SYSTEM REQUIREMENTS
1.2 GB of free hard disk space, 1 GB RAM.
A working EZdrummer 1.4 (or above) or a Superior Drummer 2.3 (or above) installation.