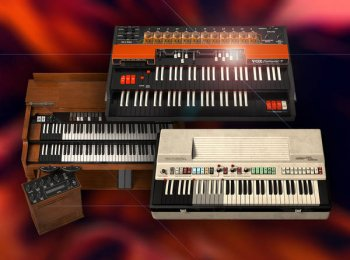 Join virtual instrument guru Tyler Coffin for an extensive video course on Aturia's organs from the V collection. Arturia really outdid themselves in recreating these three iconic instruments – the Hammond B-3, the Vox Continental, and the Farfisa – and Tyler gives you the complete lowdown on their capabilities and functionality. You'll learn not only how to recreate the classic tones that made these organs famous, but you'll also see how you can achieve new and experimental sounds as well, allowing you to make your own personal mark on the sonic legacy of these legends! These videos are for new Arturia V Collection users.
The course begins with some background information on the three organs emulated in Arturia's collection, so you'll better understand the options and features included with the plugins. Each of these instruments is steeped in tradition and legend, and it's helpful to learn a bit about their history in order to gain some context. Next, Tyler provides an overview of how the interface of each organ is laid out and their basic functionality.
The most widely recognizable of the three, the B-3 V, is covered first, which is not surprising, as it's no doubt the most popular. This legendary tonewheel organ has been meticulously recreated by Arturia, and Tyler takes you through each of the parameters – from drawbars to pedalboard and everything in between – leaving no stone unturned. You'll learn all you need to know to start making this instrument an integral part of your tracks.
Next, explore the versatile and much beloved Farfisa V, which, due to its collection of variable waveforms and extensive set of parameters, is capable of an impressive range of tones. Tyler walks you through the main sections of this instrument, arming you with the knowledge to tweak with confidence and purpose! Last but not least is the Vox Continental V, which of course emulates the famous transistorized combo instrument heard on so many British recordings of the 60s. Learn how to manipulate its various controls, including the drawbars, effects, and more, so that you'll be able to add its disctinctive tones to your next retro productions and more!
Tyler covers the Preset Manager and Browser following this, so you'll be able to quickly access and organize your sounds with ease. To close out the course, Tyler applies what you've learned in the course by demonstrating how to create numerous tones – from standard and authentic to wild and experimental – from the ground up!
To get a better idea of what's contained in each video, check out the descriptions below. You don't want to miss this opportunity to gain an intimate knowledge of these incredible virtual recreations from Arturia with these video tutorials. Learn how to fill that organ-shaped hole in your music with style… watch "Arturia Organs Explained®" today!