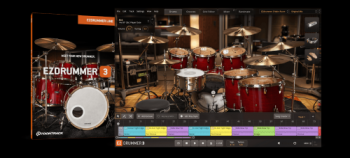 MEET YOUR NEW DRUMMER.
THE SONGWRITER'S ULTIMATE DRUMMER.
EZdrummer 3 reinvents the role a piece of drum production software can play in a songwriting context. It gives you the creative reins to a comprehensive set of easy-to-use features that allow you to create full-fledged drum tracks without ever leaving the software.
IT ALL STARTS WITH AN IDEA.
A solid groove is the heartbeat of any great song. EZdrummer 3 has a wide range of features designed to help you effortlessly get just the right groove going – for your track.
BANDMATE
GOT A RIFF?
Just drag and drop your audio or MIDI and the Bandmate will come up with a suggestion on the fly.
TAP2FIND
TAP IT IN.
Hear that perfect rhythm in your head? Use the Tap2Find feature and let EZdrummer 3 list its best matches.
GRID EDITOR
WRITE IT IN.
Pen your idea in from scratch in the onboard Grid Editor. Then, add more soul and personality to it using the many features for style, feel and timing.
GROOVES
BROWSE FOR IT.
Browse and audition grooves in the included MIDI library. When you find what you're looking for, star it or drag parts directly to the Song Track.
EDIT PLAY STYLE
TALK TO YOUR DRUMMER.
When you have your basic groove down, the Edit Play Style feature lets you perform real-time changes that make perfect musical sense.
PERCUSSION
THE POWER OF PERCUSSION.
EZdrummer 3 includes the optimal staple set of percussion. Add it to your groove at the click of a button.
SONG CREATOR
TURN IT INTO A SONG.
A groove is just a groove until it's a song. Let the Song Creator turn your idea into a full-fledged song.
GROOVE PARTS
REFINE IT.
Slice, dice, re-arrange, copy, paste and create – the power of mixing groove parts and working on the Song Track is endless.