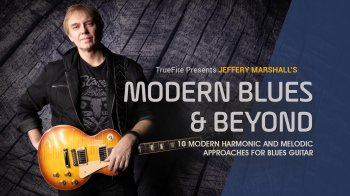 10 Modern Harmonic and Melodic Approaches for Blues Guitar
Contemporary guitarists like Robben Ford, Larry Carlton and John Scofield use a variety of sophisticated harmonic and melodic approaches when playing the blues. While many of these modern comping and soloing approaches stem from their jazz background, the underlying principles are easily applied to the blues form.
Jeffery Marshall's Modern Blues & Beyond takes the mystery out of these jazz-influenced approaches, giving you an easy to learn and even easier way to start using them in your blues playing immediately.
"I'll breakdown and decode 10 of the most impactful approaches and then we'll apply each of them over a blues jam track for musical context.
We'll explore modern blues comping and soloing applications for diminished and diatonic triads, stacked fourths, tritone subs, harmonic minor in a minor blues, re-harmonizing the blues scale, and much more.
Everything is tabbed and synced to the video. Using TrueFire's learning tools, you can slow down or loop any of the video lessons to work with the video lessons at your own pace."
Jeffery will explain and then demonstrate all of the harmonic and melodic approaches over blues jam tracks for musical context. You'll get standard notation and tabs for all of the performances, which you can sync to the video lesson using TrueFire's learning tools.
You can also loop and slow down any section of the video to work with the lessons at your own pace. Plus, the backing tracks are also included to practice with on your own.
Grab your guitar, and let's "go beyond the blues" with Jeffery Marshall!