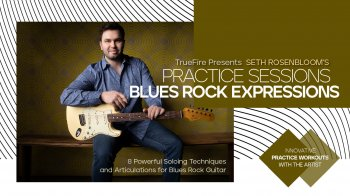 8 Powerful Soloing Techniques and Articulations for Blues Rock Guitar
Seth Rosenbloom's Blues-Rock Expressions edition of Practice Sessions is your fast-track for expressing yourself more freely and creatively when soloing and improvising. Seth will share 8 powerful techniques and articulations through a series of lessons, demonstrations and interactive practice sessions.
For each of the eight techniques, we'll start with a demonstration of a simple phrase that incorporates the approach and then we'll practice the core phrase together, over a jam track, applying creative approaches for embellishing the phrase as we go.
We'll work on rakes, trills, hybrid and alternate picking, bent vibrato sustain, ditching the pick, slides and double stop bends. Everything is tabbed and synced to the video. You can slow down or loop any of the video lessons to learn at your own pace."
What makes this format really special is how you'll get these approaches firmly under your fingers — you'll practice each of the 8 approaches together with Seth, in a series of interactive practice sessions.
Seth will kick off each study with a breakdown of the key approach and then he'll perform the approach over a backing track to give you a feel for how it sits in the rhythm section.
You'll cap off each study together with a hands-on practice session. Seth will roll the track and you'll trade back and forth as he guides you through the core examples followed by several variations and embellishments.
Working regularly with these "practice sessions" is the key to having command of all 8 techniques and articulations.
You'll get standard notation and tabs for all of the performance studies. Plus, you'll be able to use TrueFire's learning tools to sync the tab and notation to the video lesson. You can also loop or slow down the videos so that you can work with the lessons at your own pace. All of the backing tracks are included to work with on your own as well.
Grab your guitar and let's "articulate" with Seth Rosenbloom!